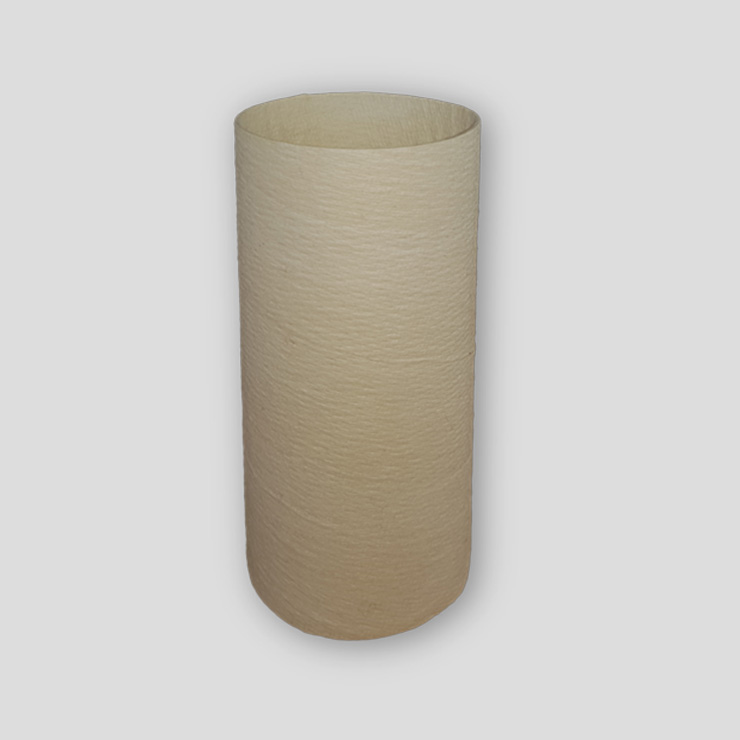 The name TISSUCORE® defines a System in which the rolls are produced winding the paper on a core made, according to a patented method, using the same paper of which the roll itself is produced.
The tissue core is formed by spyrally winding a wide stripe of tissue paper which, after receiving glue in a well defined area, overlaps n times, defining n the number of paper layers and, by consequence, also the weight and the strenght of the core itself.
In the TISSUCORE® System the formed core continuously exits from the machine that forms it and enters in a device which cuts it at measure. The cores so cut are loaded in a special accumulator which stocks them one by one until the moment they are requested from the converting line, which uses them to wind rolls of any kind.
Producing rolls using these cores gives the consumer the possibility, once the roll's paper is finished, of using also the core's paper.
So in case the roll is a Kitchen Towel roll the core will be made of K.T. paper and, at the end, it will give the consumer a usable paper quantity usable instead of having to throw it away.
If, instead, the roll is a toilet paper roll the core will be of T.P. and maybe it will be possible either to unwind and use it, maybe in an emergency situation when the roll' s paper is finished, or to throw it into the water without any damage because it is 100% water soluble.
The TISSUCORE® System gives the producer the possibility to commercialize rolls which are new and innovative, and also good looking for the consumer; the more, since the tissue cores are made using a glue which is 100% water soluble, it gives the converting line which uses them the capability of making 100% repulpable wastes, of reducing the cost due to circular cutting blades consumption and of reducing the personnel cost.
The TISSUCORE® tube can be produced with mechanical characteristics similar, and, at the same weight, even better than the card board's tubes, therefore it can easily support the strength deriving from the transfer phase into the rewinder and from the finished product's stocking.
The TISSUCORE® project is in a very advanced phase, a pilot System had been produced and is presently under test: this System will then be installed in a line of a primary tissue producer.
Very thorough tests had been performed to evaluate the possibility of using MG Paper to produce cores with the TISSUCORE® method either for Consumer or for AFH products.
In these tests it has been demonstrated that, taking as reference a certain cardboard core, using MG Paper it is possible to produce a core that has similar mechanical characteristics but weighs 30% less; as consequence we can state that an MG paper core and a cardboard core have similar cost but the first one presents important advantages. More information here >>
Before it's installation this System will be available for Customers who are interested in making samples with this new technology; who was interested in taking advantage of this opportunity can contact us at the following email address: info@bmtpaper.com